FROM THE UNION
USW Vice President Fred Redmond on solidarity and justice for Black Lives
United Steelworkers (USW) Vice President Fred Redmond and the USW Civil and Human Rights Department released the following statement on behalf of the union in response to the killing of George Floyd in Minnesota:
Our union, the United Steelworkers, is great because of our solidarity, our respect for each other, and our unyielding commitment to justice, fairness and equality. The labor movement gains its strength from our common belief that all people are inherently valuable and have an undeniable right to a fair, just and dignified life, regardless of race, religion, gender or sexual orientation.
Many of us, as a result, were not only appalled but distraught to witness the killing of a Black man in Minnesota, George Floyd, at the hands of Minnesota police officers while lying on the ground handcuffed. One of the officers kneeled on Mr. Floyd's neck as he begged for his life with those now familiar words, "I can't breathe."
We are a better nation than this.  
At a time when the world is struggling through a global pandemic that is exposing vast disparities in health, well-being and economic security, the murder of George Floyd, which was preceded by the deaths of Ahmaud Arbery in Georgia and Breonna Taylor in Kentucky, further illustrates the devastating impact racism and violence have on Black People in America in 2020.
Many of us are saddened, but too many of our African-American members are worried that they can be stopped on the way home from work or a union meeting and suffer the same fate as George Floyd.
At moments like these, we in the labor movement cannot be silent and must express our collective outrage over these brutal murders.
We call upon the U.S. Justice Department and the FBI to ensure constitutional enforcement of the law by state and local law enforcement agencies, by investigating and prosecuting the perpetrators of crimes such as this.
We cannot fight the racism, hate and impunity that threaten the lives of Black people and other people of color unless the Justice Department takes the necessary actions to ensure full and real accountability.
Watch AFL-CIO town hall featuring front-line workers
No one knows better than union members that as the pandemic rages on, the hardest hit people in America have been workers - those on the front lines every day, making sure this country is still running, often at great risk without adequate protection.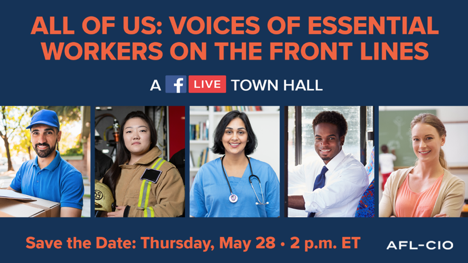 We also know that the hardest hit workers in this country have been our most marginalized workers: women, LGBT workers, people of color - citizens and non-citizens alike. And since we have started social distancing, we have witnessed discrimination against workers of Asian descent, disproportionate deaths of Black people, and equally disproportionate harm to Latinx people as a result of the disease.
Join us for this crucially important virtual town hall meeting on May 28, where we will hear from AFL-CIO leaders, constituency groups, and front-line workers from various unions speaking on what they are experiencing during this crisis.
RSVP here:  https://actionnetwork.org/forms/allofus/  
Get ready to rise with the Poor People's Campaign on June 20
The Poor People's Campaign is mobilizing the largest digital gathering of poor, dispossessed and impacted people, faith leaders, and people of conscience on June 20, 2020. The two-hour online event, called the Mass Poor People's Assembly and Moral March on Washington, will be led by Rev Dr. William Barber II and will feature many labor and other leaders and performers, including John Legend.

The USW is partnering with the campaign to help promote the historic event that is needed now more than ever. The digital march is a revival of the Poor People's Campaign of 1968, which Dr. Martin Luther King Jr. and others ignited with their call for a "revolution of values" in America.
To watch a video about the June 20 action and why it is so monumental, click here, and visit www.june2020.org for more information.
You can also access a digital toolkit here for campaign graphics, Tweets, fact sheets, and more ahead of the monumental event.
IN THE NEWS
Civil rights, labor groups demand investigation into murder of Ahmaud Arbery
A coalition of labor and civil rights organizations, including the United Steelworkers, called on the U.S. Department of Justice to open a full and thorough hate crimes investigation into the murder of Ahmaud Arbery.
In a letter was in response to the February 23, 2020, killing of Ahmaud Marquez Arbery, an unarmed 25-year-old African-American man, who was fatally shot on a street in Satilla Shores in Glynn County, Ga.
The publicly available facts, including the harrowing video documenting the intentional killing of an African-American man in broad daylight by two White men who stalked him, support opening an investigation under federal hate crimes statutes, including the Matthew Shepard and James Byrd, Jr. Hate Crimes Prevention Act, as well as federal conspiracy statutes," the groups wrote in their letter to Attorney General Barr.
Click here to read more, including the full letter.
DIGITAL DIVE
Attend virtual movie screening for Pride Month
June is Pride Month in many parts of the world, and to virtually kick it off, the AFL-CIO is partnering with the DC Labor FilmFest for an online screening of the movie "Pride" on June 2.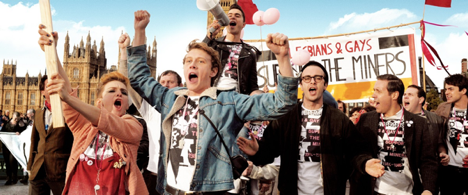 Inspired by an extraordinary true story, the 2014 film is set during the summer of 1984, when Margaret Thatcher is in power and members of the National Union of Mineworkers are on strike. A London-based group of gay and lesbian activists came to their aid and stood beside the striking miners, raising money and morale for the impacted families.
Click here to RSVP for the digital event.
WE WANT TO HEAR FROM YOU!
If your local is doing work to support communities and raise awareness about social justice issues such as women's rights, racial equality, or environmental justice, please contact the Civil and Human Rights Department at [email protected].
This newsletter is for you and by you. Thank you for all of your hard work!